Portfolio Box of 15 lithographs with 13 poems handset on a letterpress in an edition of 25.
The Tessa Portfolio is a memorial to my granddaughter and can be seen in the following public collections: Victoria and Albert Museum in London, Art Institue of Chicago (Joan Flasch Collection), Brooklyn Museum, the Walker Art Center in Minneapolis, Wichita Art Museum, Smithsonian American Art Museum & Portrait Gallery Library,
New York Public Library Print Department, Allen Library Special Collections at the University of Washington, Kohler Art Library at the University of Wisconsin,
and the Special Collections Department at the Library of Congress.
These lithographs were printed by Jim Reed at Milestone Graphics in Bridgeport, CT. The type was set by Elizabeth Butler
and printed on a letterpress by Chris Kim at Bonnie Thompson Norman's Windowpane Press in Seattle, WA.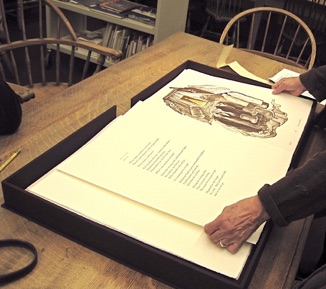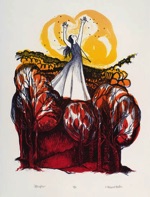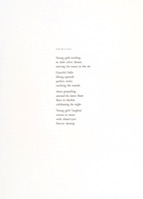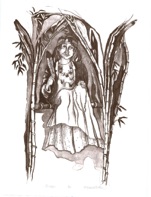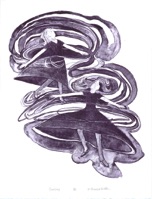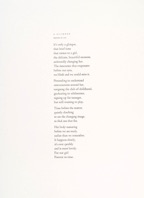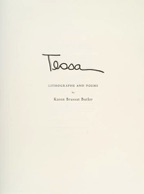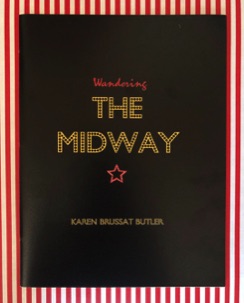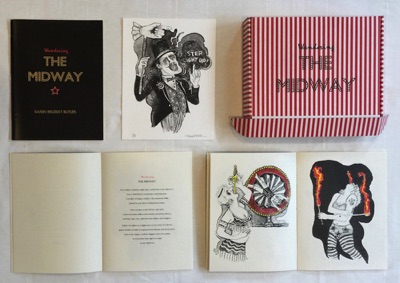 The Mermaid Parade is a limited edition accordion book showing the horizontal progression of the colorful sometimes outrageous Coney Island Mermaid Parade. The images are lithographs. I've brought together parade participants, both real and imagined, moving with the rhythm of the parade.
Wandering the Midway book has it's roots in the traveling carnivals that would stop each summer in the midwestern town where I grew up. Such a contrast to our lazy summer it was, with it's collection of entertainment - the sideshow, the penny arcade and the games. The memory of these colorful visitors are now images in my book.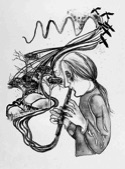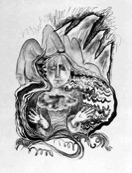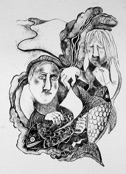 Based on ancient Chinese poems translated to English, the lithographs in the Through the Mist Portfolio have a flowing design that reflects the design of Chinese characters. These poems have a strong connection to nature and are still relevant today. There are 9 lithographs and poems. Each lithograph is between a folded sheet with the Chinese version of the poem on one side and the English translation on the other. I found a talented Chinese calligrapher in Beixing who hand painted the poems in different styles of Chinese characters. The lithographs measure 19" x 15".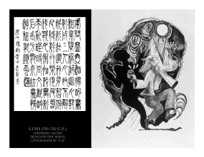 EXAMPLE OF THE POEM
IN CHINESE CHARACTERS.
This is printed in an edition of 200 books signed and numbered by me with a special edition numbered 1-48 that includes an original lithograph signed and numbered and in a box (as seen below).
I designed this book using images from my lithographs that were printed by Craig Cornwall at Trilobite Workshop in Olympia WA. The book was printed and bound at Raghaus Letterpress Studio by Markus Hartel in Newburgh, NY.
This book is included in numerous public collections including the Banff Center For Arts in Canada, Boston Public Library, the Cleveland Institute of Art, the Kohler Art Library, the Jaffe Center For Book Arts, the Kansas City Art Institute, McNeese State University, and the Philadelphia Free Library.
The special edition is available for $95 and the book alone for $40.
CITY OF IMMIGRANTS
Sheltered in Place
My most recent book, City of Immigrants, Shelterd in Place, is about immigration and the isolation that often comes from being a stranger in a foreign land. There are 32 lithographic windows printed on four 24"x36" sheets of paper. The windows all vary in architectural styles that can be found on row houses and brownstone buildings all over New York City. In each window an individual looks out. They too are as varied as the windows. These are the immigrants and children of immigrants that have come here carrying with them their differences and hopes for a new life. All these differences combined make our country more interesting and colorful. The isolation has come to everyone during this COVID-19 pandenmic. It has made us realize just how similar we all are. Many of our recent immigrants are considerd essential workers. Everyday they put their lives at risk for the greater good.