FRAMING OPTION: All seven prints are available framed measuring 22" x 19" and come ready to hang. They are quality, museum standard framing...that were ordered by several vineyards and restaurants...and we are passing along at cost. The hard wood maple moulding is 3/4" stained a mohagany color to compliment the wine theme of this series. (See photo above.) The set of seven, framed are available for $650.
EVENING TO REMEMBER & STARRY NIGHT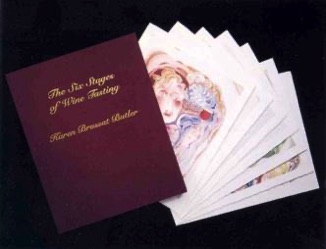 THE PRESENTATION BOX
The cost of the portfolio is $350. There are seven colorful prints in the portfolio, six of the individuals as they taste the wine and an extra print including all the individuals with text explaining the stages.
The print size is 12 1/4 " X 15". The prints are hand-signed and numbered by the artist and printed on heavy watercolor paper.
Edition size is 445.
The seven prints come in a beautiful linen presentation box that is included in the $350 price.
SPECIAL EDITION: The Special Edition includes an original hand colored lithograph, signed and numbered by the artist (95 in the edition). The image includes all six "Wine Tasters" formally dressed sitting at a table drinking wine. The cost is $650.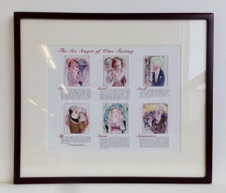 The seventh print icludes all six images with a brief explanation of the six stages of wine tasting is available separately. $60
Individual prints from this series are available from broken sets priced at $60 each.
AVAIABLE IN TWO SIZES:
32"x 40" Edition size 95 Price $650
16"x20" Edition size 250 Price $250
ABOUT GICLEE PRINTS :
Our Giclee Prints are printed on thick, premium watercolor paper with pure, rich color with remarkable detail.
They look very much like watercolors and are are extremely close to the originals .
The Seventh Prints $60.00 To see larger click on the print
SIX STAGES OF WINE TASTING