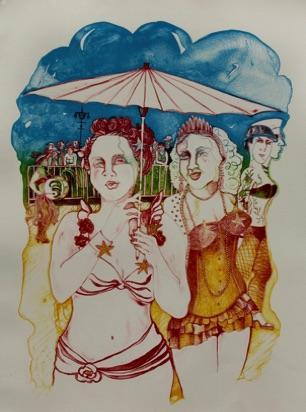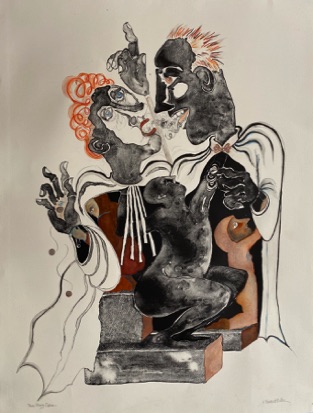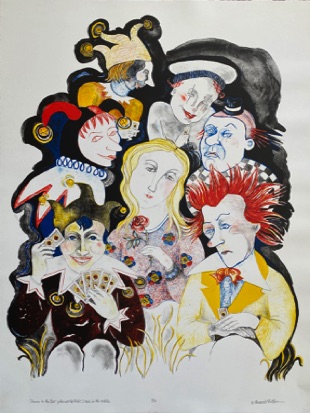 CLOWNS ON THE LEFT, JOKERS ON THE RIGHT, STUCK IN THE MIDDLE WITH YOU
33" X 23"
THREE PENNY OPERA
46" X 36"
IN SEPTEMBER, 2023: 11 INTERNATIOAL PRINTMAKING OF DOURO
AUGUST - SEPTEMBER 2022: 5 GLOBAL PRINT
THREE LITHOGRAPHS TO BE IN EXHIBITS IN PORTUGAL
THESE EXHIBITS WILL TAKE PLACE IN CITIES IN THE DOURO REGION OF PORTUGAL
SOUTHERN PRINTMAKING BIENNALE X INTERNATIONAL
AFTER 20 YEARS, THIS IS THE LAST YEAR FOR THIS VERY SPECIAL EXHIBITION AT THE UNIVERSITY OF NORTH GEORGIA.
I AM HONORED TO HAVE MY WORK INCLUDED.
TATTOO BALL
LITHOGRAPH WITH HAND COLORING
30" X 22"
The Southern Printmaking Biennale was established by Michael Marling de Cuellar in 2002 with the fundamental mission of providing the University of North Georgia students with dynamic educational stimuli and providing professional exhibition opportunities for serious artists working in the field of printmaking. This is the tenth exhibit and will conclude the Southern Printmaking Biennale International in 2022. A retrospective exhibition of all the award winners of the previous twenty years will be exhibited in the Fall of 2024.
August 22, 2022 – September 23, 2022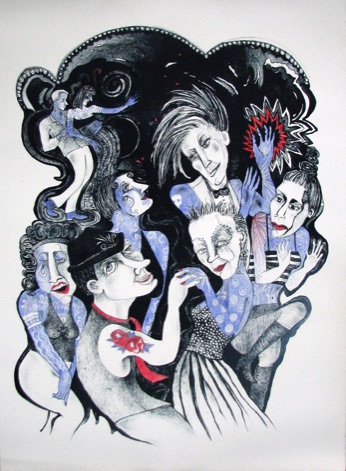 OTHER EXHIBITS IN 2022 WHERE MY WORK HAS SEEN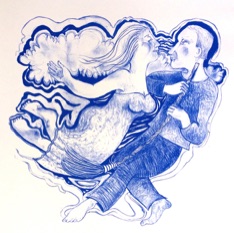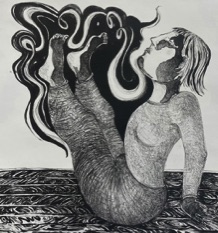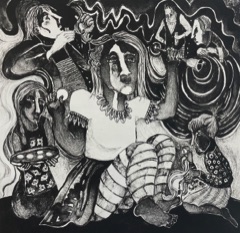 JURORS AWARD: STARDUST, 36" x 38" WATERCOLOR
Carl Sagan once said "Even through your hardest days, remember we are all made of stardust." We are all connected. Everything in the universe is connected. While we may look different, speak differently, be richer or poorer…. we are all connected.
DON'T LET THE GRASS GROW UNDER YOUR FEET Lithogragh, 21" x 12"
EXTREME PRESSURE BIENNIAL OF AMERICAN PRINTS, Webber Gallery, Central Florida Florida College
TAKE A WEIGHT OFF YOUR FEET 12"x12" WAIT ON HEAD AND FOOT, 12"x12"
EAST LONDON PRINTMAKERS GALLERY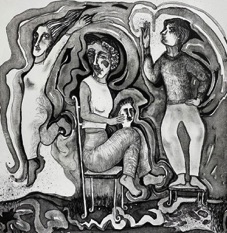 BITTERSWEET: 40" x 40" WATERCOLOR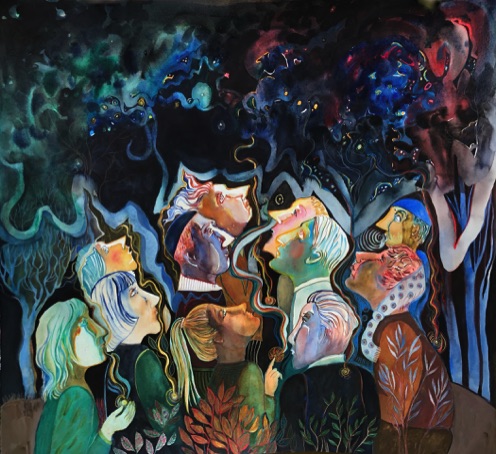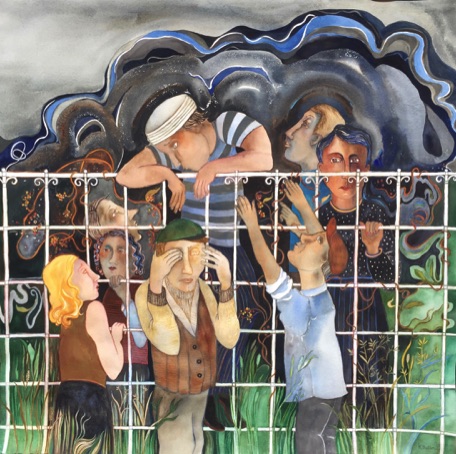 THE CONNECTIONS EXHIBIT
ATTELBORO MUSEUM OF ART, ATTALBORO, MASS
"A human being is a part of the whole called by us universe, a part limited by time and place. He experiences himself, his thoughts and feelings as something separated from the rest, a kind of optical delusion of his consciousness. This delusion is a kind of prison for us. Restricting us to our personal desires and to affection for a few persons nearest us. Our task must be to free ourselves from this prison by widening our circle of compassion to embrace all living creatures and the whole of nature in its beauty." (Albert Einstein)
SWEPT OFF HER FEET
Lithogragh, 12" x 12"
SILVERMINE SUMMER SALON 2022
SILVERMINE SUMMER SALON 2022